Events in 2016
Over 2016 the Society continued to deliver outreach activities, in partnership with other local heritage organisations in the region.
Visit to Excavations at Must Farm (15/12/2015)
In February (20/02/16), a very well attended site visit was organised with Cambridge Archaeological Unit (CAU), to the excavations in progress at Must Farm, the quarry/commercial excavation of a rich palimpsest of later Bronze Age roundhouses on a tributary of the River Nene, near Peterborough.
Over 35 people attended this visit; people were given the opportunity to handle excavated artefacts and see up-close a state-of-the art excavation in progress.
In December (15/12/15), the excavation director, Mark Knight from CAU had provided a presentation to the Society; the site visit added to this unique insight into this fascinating commercial excavation, as the media announced, Must Farm could be Britain's 'the Pompeii'.
HEFA at Hillington (16-17/4/2016)
Continuing outreach with schools at Hillington and the community, the Society organised test pit locations for the Access Cambridge Archaeology (McDonald Institute, the University of Cambridge) Higher Education Field Academy (HEFA) (16-17/04/16). Two secondary schools attended, local children and staff and Society volunteers, enabled two days of test pitting.
This was a great success, so with help from Society volunteers (organising test pit locations; staffing test pits) in March 2017 we are to support this event. This event gives an opportunity to involve young people in schools and we have gradually learned more about the origins of this large village: later Bronze Age pottery sherds, lithics and medieval pottery.
This, of course, adds to previous fieldwork Society members have completed in Hillington (a villa in the 1990s was investigated) and is an additional parish of the Gaywood Valley that links with the 2013 project.
Funded Large Projects
In 2016 unlike previous years we did not have a significant project bid and funding. It was agreed in a committee meeting in late November 2015, given the limited numbers of volunteers able to actively be involved, not to progress any four potential projects. Instead, in 2016 we worked with local organisations to deliver targeted community outreach events.
Instead a number of investigations and events were carried out in conjunction with other local groups. In partnership with local churches, the Norfolk Archaeological Trust, the Churches Conservation Trust and, particularly True's Fisherfolk Museum a series of events were delivered (See Below)
Boat Survey at True's Yard (07/05/16)
A survey of the unrecorded Fishing Smack currently on display at True's Yard took place in May under the title of 'A shot across the bow. The boat is showing some signs of decay and True's Yard are actively seeking funding to carry out repairs.
The survey was important in providing a 'snapshot' in time of the boat and its current condition and was carried out by society members over the weekend.
Family History Day (04/06/16)
The Society set up a gazebo outside in the courtyard of True's Yard, adjacent the Fishing Smack, 'Activity'. We had artefacts across all periods, Prehistoric to modern, available for handling and identification and a game to organise these into dates and groups, by period. We also had some two very popular sand testpits, with artefacts from all periods buried at different levels (prehistoric flints; Roman pottery; medieval and post-medieval pottery; Victorian ware; coins).
Children and their families really enjoyed this activity, using designed children friendly plastic trowels, clean sand and identification sheets to locate and record artefacts, like a real excavation. Some children just wanted to dig and find everything all at once (they were very excited). Others took their time, slowly and found things gradually as each layer of sand was uncover and yielded an older artefact.
---
It was fun for all, learning how to excavate, find and record the past. A trustee and volunteer from True's Yard when passing with family, even accused the archaeologists guiding the children at the testpits as making the 'children too enthusiastic', she pleaded 'Stop!'. (we were occupying too many children at once, away from other activities).
It was a well attended event, with children, some younger people and their families enjoying finding out about history and archaeology. At the end of the day we restored the boxes, ready to be used and set up for another day and donated these to True's Yard Museum.
Understanding Churches (04/06/16)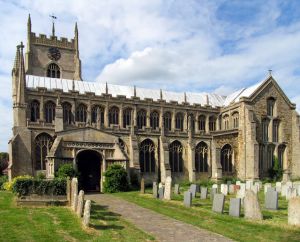 This was a full day exploring two local churches that showed how local churches had been evolved to meets the local geography and community.
The buildings chosen were two Fenland Churches (Terrington St John and Tilney All Saints) which were still in active use but exhibiting unusual features required by their location.
Dr. Julian Litten, who is a nationally renowned specialist in the subject, made the day both informative and entertaining. He explained how the poverty of the local population meant that church 'fashions' were only partially adopted in one of the churches. This was a wonderful illustration of the changes in the way that deswign of pews had changed over the years.
In the other the church building, which in the past had often been isolated rising fen-water, the chaurch had been extended to include, not only lodging for the vicar, but also stabling for his horse.
Middleton Mount (05/06/16)
A visit to Middleton Mount, with Norfolk Archaeological Trust (Leader: Caroline Davison) and picnic;
Middleton Mount is a particually well preserved example of a Mott & Bailey castle and tucked away at tyhe back of a modern housing estate. We were able to explore the site, and then (over a picnic lunch on the grass) were able to discuss the various landscape features and the reasons behind siting the castle in this location.
Ledgerstones (18/6/2016)
Study day, 'Ledgertsones: their function and purpose', based at True's Yard and St Nicholas' Chapel (Leader: Dr. Julian Litten; Churches Conservation Trust)(18/06/16);
Dr Litten brought the subjectb of ledgerstones to light and hosted a breif introductory lecture at True's Yard. It was followed by examining examples of the ledgerstones installed in the floor of St Nicholas' Chapel which is (almost) next door to True's Yard.
The chapel has recently been extensively restored and the stones provide a facinating insight to past times. Dr Litten also discussed the National Ledgerstone survey and how society members could contribute to this project.
Inns of Kings Lynn (08/07/16)
Definitely not a pub-crawl, this afternoon walk took us into the backstreets of Lynn and some remarkable archetural gems but most the Inns are now private dwellings. Doctor Roicards brought the places to life with his amazing breadth of knowledge about Lynn and its sometimes baudy, history. The Lattice House was the only pub on the walk and that was a high-status merca=hants house in former times.
The guided walk, finished at the lovely Ouse Booze with its amazing views over the river.
Digging Deep - Test Pit at True's Yard (23/07/16)
A mini test pit excavation, at True's Yard, 'Digging Deep History' which was designed to explore the past of the Yard and also allow the public to see arcaeology in action. In fact so impressed was one member of the public that she joined us in excavating the test pit!
2018/19 Lectures
The program of lectures for the next season can now be found under the 'Lectures' tab above.
---
Summer Visits 2019
Marshland Maritime Museum
This visit is planned to take place on Saturday 18th May starting at 10:30am.
St Mary's, Houghton
This visit is planned to take place on Saturday 7th September starting at 10:30am.
---
WNKLAS In The News
The society has been in the local Newspapers recently in coverage of the conference to celebrate our 50year anniversary and also the presentation to John Smallwood one of the founders.
---
King John's Treasure
The society's investigation of a local farm contributed to a programme made for US television as part of the Expidition Unknown series. This systematic survey of an area that was a likely route for the Royal Treasure was also the subject of a recent lecture evening.